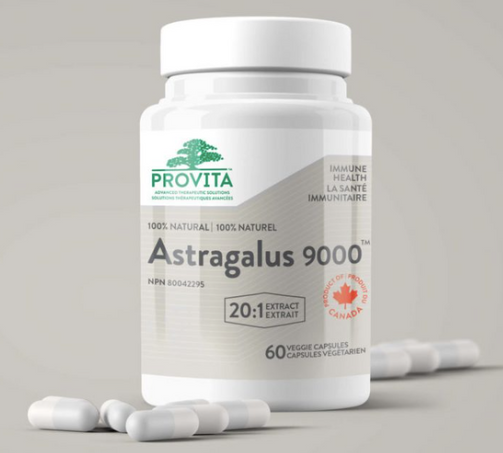 Provita Astragalus 9000™
Provita Astragalus 9000™
Regular price

Sale price

$17.99
Provita Astragalus 9000™ – immune booster
Helps to maintain a healthy immune system. TCM: tonifies the spleen and augments the qi (vital energy).
Benefits
Immune function booster
Equivalent to 9 000mg dry root /cap
TCM: supports spleen function
TCM: augments vital energy (QI)
An adaptogen (body & mind)
Astragalus membranaceus, the active ingredient in Astragalus 9000™, is primarily used in western medicine to strengthen the immune system function. In Traditional Chinese Medicine, it is used in augmenting the QI (vital energy) and tonify the spleen.
By augmenting QI, Astragalus is also an adaptogen, meaning it helps protect the body from physical, mental, or emotional stress. Spleen is a less talked about organ but it is an important one.  The spleen plays multiple supporting roles in the body. It acts as a filter for the blood and lymphatic system as an important part of the immune system function. Used red blood cells are recycled in the spleen, and platelets and white blood cells are stored there for recycling.
Astragalus is, therefore, useful to improve the immune response, among others by potentiating the effects of interferon and it has been confirmed to enhance the immune system in vitro and in vivo investigations.
Astragalus 9000™ provides a concentrated 20:1 extract from the root of Astragalus membranaceus, being one of the most potent Astragalus products in its class.
Medicinal Ingredients
Each Capsule contains:
Astragalus membranaceus Root 20:1 PE.
450 mg
- equivalent to 9,000 mg of dry root
- minimum 20% Polysaccharides
Non-Medicinal Ingredients
Microcrystalline cellulose, vegetable stearate
Capsule Shell: hypromellose (vegetarian source gelatin)
Does not contain
Dairy, egg, gluten, soy, wheat, corn, yeast, nuts, artificial sweeteners, preservatives, colors, or flavors.
Who can benefit?
Used in Western herbal medicine to maintain a healthy immune system. Traditionally used in Traditional Chinese Medicine (TCM) to tonify the spleen and augment the QI (vital energy).
Astragalus 9000 can be an important element in the maintenance and strengthening of the immune system by increasing its efficiency and speed of response. 
Recommended dose
Adults take 1 capsule 3 times per day.
Cautions:
Consult a healthcare practitioner prior to use, if you are pregnant or breastfeeding or if you have an auto-immune disorder. Hypersensitivity (e.g. allergy) has been known to occur; in which case discontinue use. Do not use in cases of exterior excess, Qi stagnation, damp obstruction, food stagnation, Yin deficiency with health signs, or skin lesions in their early stages or where there is a heat toxin.
Do not use if the seal is broken. Keep out of reach of children.
Keep the sealed, store in a cool, dry place at 15–25ºC.
Couldn't load pickup availability