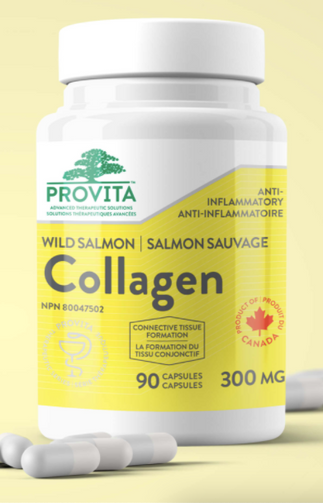 Provita Wild Salmon Collagen
Provita Wild Salmon Collagen
Regular price

Sale price

$23.99
Provita Wild Salmon Collagen
Wild Salmon Collagen – essential for healthy ligaments and skin
Helps in collagen formation. Helps in connective tissue formation.
Benefits
Small molecular weight collagen hydrolyzed from predominantly salmonoids
Associated with L-Lysine and Vitamin C for enhanced collagen formation.
Improved absorption and bio-availability
Wild Salmon Collagen helps in collagen and connective tissue formation. Collagen is an essential part of joints and skin. Salmon Collagen has been shown to aid in achieving soft, smooth, and beautiful skin and contributes to the health of joint cartilage.
Collagen is the most important protein in the human body as it represents 30% of total body proteins and 70% of the proteins in the skin. Collagen acts as a buffer that protects cells from stress and thus maintains the elasticity of connective tissue, some of the most important being the ones in the composition of joint cartilage and skin. Fish collagen has a smaller molecule than bovine collagen and therefore can be absorbed and utilized more efficiently.
L-Lysine is an amino acid involved in collagen synthesis. Vitamin C assists in collagen formation.
Medicinal Ingredients
Each Capsule Contains:
(from wild-harvested salmonids and other small marine fish)
Vitamin C (ascorbic acid)
50 mg
Non-Medicinal Ingredients
Rice flour, vegetable stearate, gelatin.
Does not contain
Dairy, egg, gluten, soy, wheat, corn, yeast, nuts, artificial sweeteners, preservatives, colors, or flavors.
Who can benefit?
Improvements in arthritis, osteoarthritis since collagen is a major component of joint cartilage
It May help with skin health since collagen is essential for maintaining skin elasticity
Recommended dose
Adults take 1 to 2 capsules 3 times per day.
Cautions:
Consult a health care practitioner prior to use if you are following a low protein diet.
May cause mild gastrointestinal disturbances.
Sealed for your protection. Keep out of reach of children.
Keep the sealed, store in a cool, dry place at 15–25ºC.
Couldn't load pickup availability