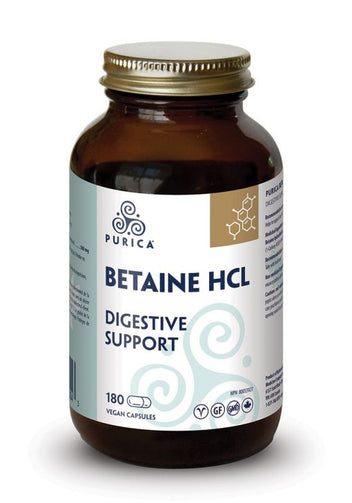 PURICA Betain HCL
PURICA Betain HCL
Regular price

Sale price

$18.99
PURICA Betain HCL
Also known as trimethylglycine or TMG
Consists of the amino acid glycine and three methyl groups
Supports many important functions within the body, acting as a methyl donor
Betaine—also known as trimethylglycine or TMG—consists of the amino acid glycine and three methyl groups. Inside the body, it acts as a methyl donor, thus supporting many important functions within the body. For example, betaine assists the methylation of homocysteine to create methionine, which helps synthesize creatine. In this way, betaine helps build muscle strength, power, and mass. Pure vegan betaine also helps support the liver and digestion.
Medicinal Ingredients (per capsule):
Betaine hydrochloride
(1-Carboxy-N,N,N-trimethylmethanaminium chloride)
500.0 mg
Non-medicinal ingredients: Hypromellose, magnesium stearate, microcrystalline cellulose
Recommended dose:
Adults: 1-2 capsule(s) 1-3 time(s) per day
Take with food/meal.
Recommended use or purpose:
Helps to support liver function.
Helps to support digestion/digestive aid
If you are pregnant or breastfeeding, have peptic ulcers or excess stomach acid, or high cholesterol, consult a health care practitioner prior to use. Store at room temperature 15-30˚C. Bottle opening sealed for package security. Protect from moisture.
Couldn't load pickup availability