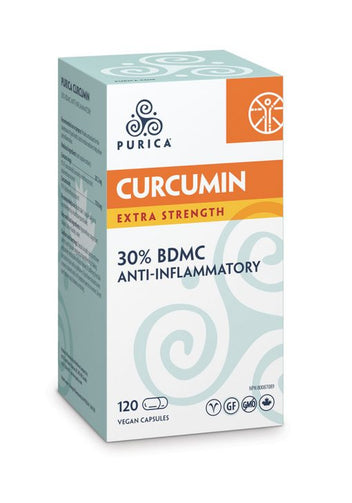 PURICA Curcumin Extra Strength - powered by BDM30™
PURICA Curcumin Extra Strength - powered by BDM30™
Regular price

Sale price

$54.99
PURICA Curcumin Extra Strength - powered by BDM30™
Rapid Relief. Optimal Performance.
BDMC improves curcumin stability, bioavailability, and prolonged survival in blood.
BDMC inhibits NF-kB and MSK1 to combat inflammation from two targets. Regular curcumin only inhibits NF-kB.
Our BDMC offers 565,000 ORAC units per gram. Regular curcumin has an ORAC of just 9,500 units.
Optimal Pain Relief
PURICA Curcumin
Quickly alleviates inflammation and relieves joint pain. Enhances detoxification, promotes skin health, balances cholesterol, regulates blood sugar, and helps prevent blood clots. Also boosts brain function
PURICA Curcumin is Extra Strength. It works to provide Rapid Relief and Optimal Performance on the strength of 30% bisdemethoxycurcumin (BDMC), compared to the 1% BDMC found in regular curcumin extract. That's a 30-to-1 ratio designed to make a difference for you!
Why wait days for relief when you can have it in just a few short hours?
Life is precious. So is your time. Why waste any of it? With PURICA Curcumin Extra Strength 30% BDMC Anti-Inflammatory, you're getting remarkably fast-acting relief from inflammation and joint pain. At a potency of 30 times the regular curcumin extract, you can make sure that time and performance are on your side.
Why does the potency matter?
Powered by 30% BDMC, PURINA Curcumin quickly alleviates inflammation and relieves joint pain. And fast! The Rapid Relief leads the way to Optimal Performance so that you can get back to what you love doing. Day in. Day out. It works better and longer for you.
Additional benefits
Yet that's not all. PURICA Curcumin 30% BDMC also:
Enhances detoxification
Promotes skin health
Balances cholesterol
Regulates blood sugar
Helps prevent blood clots.
Boosts brain function.
Medicinal Ingredients (per capsule)
Curcuma longa

97.0 % curcuminoids (curcumin, demethoxycurcumin, bisdemethoxycurcumin)

267.2 mg

Curcuminoids

97 % (bisdemethoxycurcumin)

110.0 mg
Non-medicinal ingredients:
Hypromellose, magnesium stearate, microcrystalline cellulose, silicon dioxide, water
Recommended use:
Provides antioxidants for the maintenance of good health. Used in herbal medicine to help relieve joint inflammation
Recommended dose:
Adults: 1 Capsule daily.
Cautions and warnings: Consult a health care practitioner prior to use if you are pregnant or breastfeeding, if taking antiplatelet medication or blood thinners; if suffering from bile duct obstruction such as gallstones; if you have stomach ulcers or excess stomach acid; or if symptoms persist or worsen. Do not use if seal on cap is broken or missing.
Couldn't load pickup availability