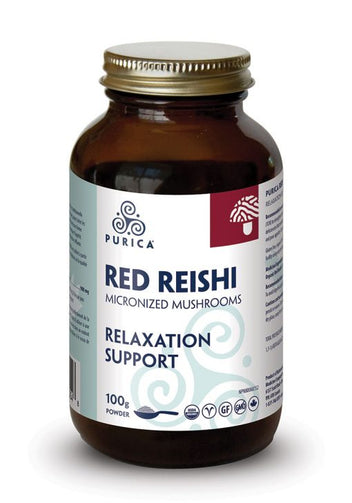 PURICA Red Reishi (powder)
PURICA Red Reishi (powder)
Regular price

Sale price

$49.99
PURICA Red Reishi - Calming Relief & Sleep Support (powder) 
Encourages sleep
Relieves anxiety and stress
Promotes healthy moods, memory, and concentration.
Balances energy
Strengthens the immune system
Detoxifies and tones the liver and bowel
Since ancient times, Red Reishi was reserved for emperors and royalty and has long been used in Asia as an energy tonic to promote longevity and overall health. A much-revered mushroom, Red Reishi is now recognized as a powerful adaptogen and immunomodulator that can bring about enhanced balance and rejuvenation of the body.
PURICA Red Reishi is a Full Spectrum lab-grown product, including mycelium, fruitbody, spores, primordial, and extra cellular compounds.
Red Reishi rejuvenates the body, therefore, bringing us to a better state of balance within.
Medicinal Ingredients (per dose unit):
Organic Red Reishi
(Ganoderma lucidum)
900 mg
Organic, full-spectrum mushroom, micronized for superior absorption, and assimilation. Therapeutic grade. Gluten-free.
PURICA organic Red Reishi is cultivated in a quality-controlled facility using only organic plant materials for the fuel source.
Non-medicinal ingredients: hypromellose, microcrystalline cellulose.
Recommended dose, adults:
1/2 teaspoon (900mg) 2 times a day. To avoid digestive upset, take with food/meal.
Recommended use or purpose:
Source of fungal polysaccharides with immunomodulating properties. Helps with insomnia and general wellness.
Used in Traditional Chinese Medicine (TCM) to dispel phlegm, stop cough and arrest wheezing, to nourish the heart, and strengthen qi and blood to treat heart and spleen deficiencies that manifest in insomnia, forgetfulness, fatigue, listlessness, and poor appetite. Used in TCM to strengthen the body and tonify qi.
Traditional Chinese Medicine, cough: Call a healthcare practitioner if symptoms persist or worsen. Hypersensitivity/ allergy can occur; in which case, discontinue use. Store in a cool dry place, away from children. Do not use if safety seal is broken.
The medicinal mushroom Red Reishi is used for its health-promoting qualities:
Relieves insomnia, anxiety and stress
Balances energy
Strengthens immune system
Detoxifies and tones liver and bowel
Promotes healthy moods, memory and concentration
Other Reported Benefits of Reishi:
Relieves insomnia
Boosts energy, general health tonic
Reduces muscle tension and pain
Calms anxiety
Stimulates liver function, processes of elimination
Supports heart function, the integrity of the vascular system
Promotes healthy brain chemistry, memory, and concentration
Anti-aging, anti-oxidant in free radical scavenging
Strengthens immune system
Chinese and Japanese herbalists have traditionally recommended Reishi mushrooms for insomnia. Long-term use influences their "sleep-promoting factor", as it increases slow-wave sleep.
Other studies report that Red Reishi improves both neurological and psychiatric conditions including muscle tension, anorexia, and debility following lengthy illnesses.
In Japan, the root-like body that produces mushrooms, known as the dried "mycelium", has been found to be highly effective in the treatment of conditions related to "environmental stress".
Action:
Cardiotonic action
Circulation
Inflammation modulator, antibacterial
Liver detoxifier
PURICA Red Reishi is a proprietary USDA certified organic red reishi strain cultivated in the lab using only organic plant materials for the fuel source.
Couldn't load pickup availability