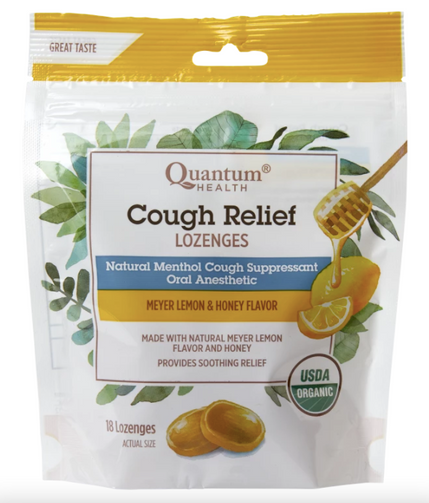 Quantum Health® Cough Relief - Organic Cough Drops
Quantum Health® Cough Relief - Organic Cough Drops
Regular price

Sale price

$8.99
Quantum Health® Cough Relief - Organic Cough Drops
Make sure you always have Quantum Health® Cough Relief Lozenges handy or on order during winter months, back-to-school season, and any other time of seasonal immune challenge. Experience throat soothing and cough quieting comfort with our USDA Organic drop product made from the highest quality ingredients.
The Bing Cherry flavor comes from real Bing cherry juice. Meyer Lemon with Honey lozenges relies on the distinctly sweeter natural flavor of Meyer lemons and organic honey. When your throat needs soothing and your cough needs quieting, provide yourself with the cough drop that contains only good-for-you ingredients!
Meyer Lemon with Honey Ingredients: Menthol, natural Meyer lemon flavor, organic brown rice syrup, organic cane syrup, organic honey, organic slippery elm powder, and organic turmeric.
Benefits of our organic cough drops
Before you shop, keep in mind we have the best natural cough suppressant lozenge around because it's the only USDA organic cough drop currently available. Our natural cough drops are formulated from scientifically studied ingredients derived from nature. They're free of harmful toxins, and they work for treating coughs and sore throats.
One reason our organic cough drops are trusted by retailers and customers is our unique ingredients. They're high-quality and familiar:
Menthol

 

is an organic resource that's made of peppermint, eucalyptus, and mint oils. It aids in calming irritated throats by cooling the airway. Each of our natural cough lozenges has 5 mg of organic menthol, the active ingredient.
Slippery elm powder

 

is another ingredient (inactive) that helps by using its throat-soothing properties. It's derived from the red inner

 bark of a tree

. Used to treat common ailments like fevers and sore throats, when combined with water, slippery elm powder forms a sticky material (mucilage) used for therapeutic purposes.
Beetroot juice

 

is extracted from the superfood, beets, and has several known

 health benefits

, such as lowering blood pressure. It also provides potassium and other minerals, such as iron, calcium, zinc, and copper.
Turmeric, an ancient root, is part of the flowering plant Curcuma, a member of the ginger family. The root is used for cooking and medicine, and it's where the benefits are derived.

 Turmeric

 

is popular for its active component, curcumin, an anti-inflammatory antioxidant.
These main ingredients are rooted in nature - not created in a laboratory. We use only the highest quality sources that are supported by research to yield products, like our organic lozenges, that are truly effective.
Couldn't load pickup availability