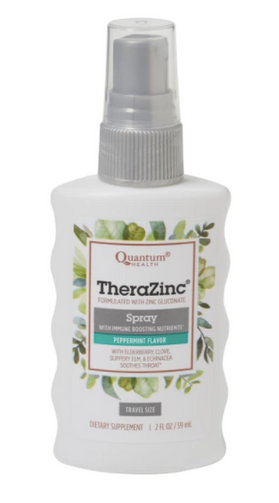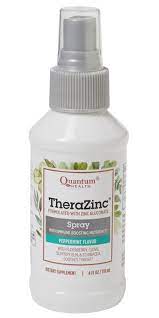 Quantum Health TheraZinc® Oral Spray
Quantum Health TheraZinc® Oral Spray
Regular price

Sale price

$15.99
Quantum Health TheraZinc® Oral Spray
Our TheraZinc® Oral Spray delivers ionized zinc directly to your mouth and throat. For best results, spray toward the back of the throat, wait a few seconds, then swallow normally. Our spray is the perfect alternative to our zinc lozenges. And it's great for air travel!
This spray provides zinc in a targeted, form. Our spray delivery releases the zinc ions in your mouth and throat for immune support. Other forms of zinc may not convey consistent effects.*
TheraZinc® Oral Spray also contains natural peppermint oil, menthol, and cherry bark extract, which provide throat-soothing benefits and taste great too. Added herbal extracts include Echinacea and elderberry to help support a healthy immune response.*
Sweetened with stevia, so it is sugar-free. No artificial colors!
Ingredients: Zinc (from Zinc Gluconate); Proprietary blend of Purified Water, Polysorbate-20, Vegetable Glycerin, Stevia Extract, Clove Bud Oil, Peppermint Oil, Menthol, Slippery Elm Extract, Echinacea Extract, Elderberry Extract, Wild Cherry Bark Extract.
Couldn't load pickup availability