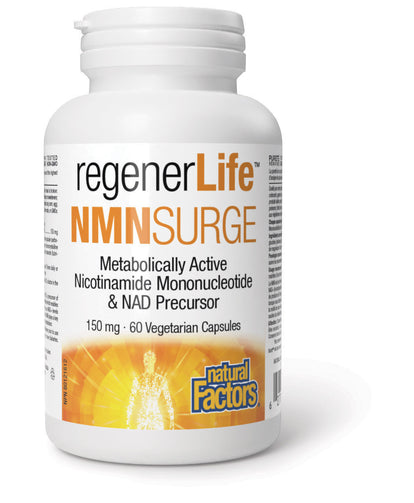 Natural Factors Regenerlife® NMN Surge
Natural Factors Regenerlife® NMN Surge
Regular price

Sale price

$85.99
Natural Factors Regenerlife® NMN Surge
Ageing is caused by so many processes, but did you know there are several natural compounds that are pivotal to healthy biological ageing, such as NAD+? Give your life a surge with RegenerLife® NMNSurge. Nicotinamide mononucleotide (NMN) is a biologically active form of vitamin B3 that is converted into NAD+, providing support for optimal energy production and cell renewal. This unique anti-aging ingredient rejuvenates cellular health to provide anti-aging support!
RegenerLife® NMNSurge 150mg Benefits:
Provides a cutting-edge, metabolically active form of vitamin B3

Activates NAD+ for anti-aging support

Supports energy production in cells

Replenishes age-related declines in NAD+
Ingredients:
Each vegetarian capsule contains:
Nicotinamide mononucleotide (NMN)
150 mg
Vegetarian capsule (carbohydrate gum [cellulose], purified water), microcrystalline cellulose, vegetable grade magnesium stearate (lubricant), stearic acid, silica.
Contains no artificial colours, preservatives, or sweeteners; no dairy, starch, sugar, wheat, gluten, yeast, soy, corn, egg, fish, shellfish, animal products, salt, tree nuts, or GMOs. Suitable for vegetarians/vegans.
Natural Factors Regenerlife NMN Surge
RegenerLife NMN Surge contains metabolically active nicotinamide mononucleotide (NMN), a unique anti-aging ingredient used to rejuvenate cellular health. This biologically active form of vitamin B3 is quickly converted by the body to nicotinamide adenine dinucleotide (NAD+), a metabolite needed for optimal energy production and cell renewal. Our non-GMO formula features 150 mg of NMN per vegetarian capsule as a factor in the maintenance of good health. Uses and benefits* (Salsify: Features & Benefits) Provides a cutting-edge, metabolically active form of vitamin B3 Activates NAD+ for anti-aging support Supports energy production in cells Replenishes age-related declines in NAD+ A factor in the maintenance of good health Suitable for vegetarians and vegans
Couldn't load pickup availability