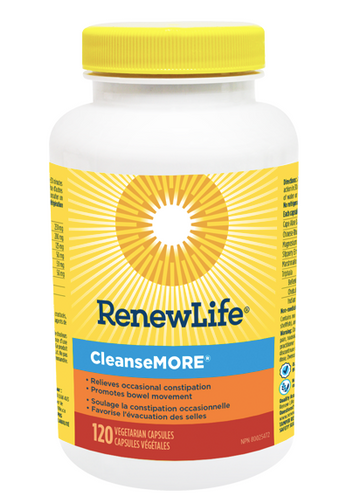 Renew Life® CleanseMORE®, Constipation Relief
Renew Life® CleanseMORE®, Constipation Relief
Regular price

Sale price

$29.99
Renew Life® CleanseMORE®, Constipation Relief
CleanseMORE® is made with naturally sourced ingredients containing 125 mg of the mineral Magnesium hydroxide along with natural herbal ingredients to help stimulate a laxative effect.
COLON TARGETED: Formula designed to provide colon relief from occasional constipation.
HERBAL INGREDIENTS: Gentle, yet strong acting formula stimulates the smooth muscle contraction of the colon with Cape Aloe Leaf, Rhubarb Root, and the ayurvedic herb – all derived from three fruits native to India. Contains the herbal Marshmallow Root and Slippery Elm Bark known for their soothing properties.
SIMPLE DAILY USE: Designed for efficiency and fast cleansing abilities which soothe the bowels and promote activity. CleanseMORE is also shelf-stable meaning it does not need to be refrigerated and is great for travel and on-the-go users.
NON-GMO: This product does not contain genetically modified material. Contains no dairy, gluten, or soy.
QUALITY CHECKED IN CANADA: All Renew Life Canada products go through a rigorous testing program.
Directions: 
Adults: Take 1 capsule in the evening on an empty stomach as needed. Oral dosage produces action in 30 minutes to 6 hours. Do not take within 2 hours of other medication. Drink a full glass (250ml) of water or other liquid with each oral dose. Consult a health care practitioner for use beyond 1 week. No refrigeration required. Store in a cool, dry place.
Ingredients:
Each capsule contains

Cape Aloe Latex Leaf (Aloe ferox)

250 mg

Chinese Rhubarb Root (Rheum palmatum)

200 mg

Magnesium (Elemental) Magnesium Hydroxide

125 mg

Slippery Elm Bark (Ulmus rubra)

50 mg

Marshmallow Root (Althaea o cinalis)

50 mg

Triphala

50 mg

Belleric Myrobalan Fruit (Terminalia bellirica)

16.7 mg

Chebulic Myrobalan Fruit (Terminalia chebula)

16.7 mg

Indian Gooseberry Fruit (Phyllanthus emblica)

16.7 mg
Non-medicinal Ingredients: Vegetable capsule (Hypromellose, water), maltodextrin. Contains no tree nuts, peanuts, sesame, mustard, wheat, gluten, egg, dairy, soy, seafood (fish. crustaceans, shellfish), animal products, artificial colour or preservatives, unnecessary binders or fillers. NON-GMO. This product does not contain genetically modified ingredients.
Warning: Do not use it if you have Crohn's disease or ulcerative colitis. Do not use in the presence of abdominal pain, nausea, fever, or vomiting. Consult a health care practitioner prior to use if you have diabetes that is not well controlled. Loose stools or diarrhea may occur. If loose stools persist, discontinue use. Do not use if pregnant or nursing. Keep out of reach of children. Do not exceed recommended dose. Overuse may cause dependence on bowel function.
Couldn't load pickup availability