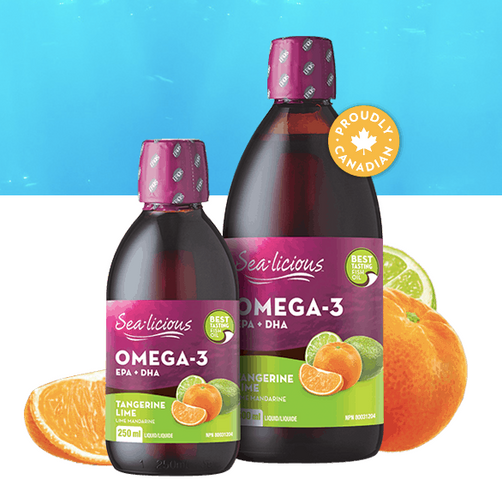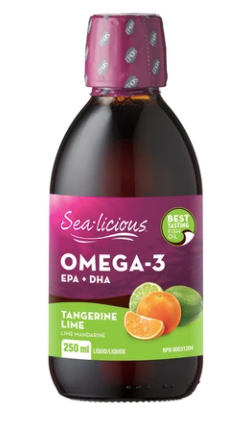 Sea-Licious omega 3 EPA+DHA Tangerine Lime
Sea-Licious omega 3 EPA+DHA Tangerine Lime
Regular price

$46.99

Sale price

$45.99
Tangerine Lime
Step into a citrus grove, for your daily dose of omega-3.
Fresh, bright, citrusy with the perfect hint of flavor is the best way to describe our Sea-licious Tangerine Lime. A spoonful will transport you to a sunny grove of fresh-cut citrus. Smile
Sea-licious Tangerine Lime is the most subtle of all the flavours, so if you're looking for a mild choice, this is a terrific option. The all-natural monk fruit is the perfect sweetener to enhance the fruit flavours without adding unnecessary sugar.
Aside from the superior quality of the oil, the Sea-licious taste is what sets it apart from all other fish oils on the market and makes it something you look forward to taking. This is what also makes Sea-licious a delicious addition to food, salads, or dressings.
Tip: Tangerine Lime is great blended with cilantro and tossed with a green kale salad for an even fresher take on salad dressing.
KEY ATTRIBUTES:
Natural Triglyceride
5-star IFOS tested and certified for purity, potency and freshness
Non-GMO
Gluten-free
Contains no shellfish
Sweetened with zero-sugar monk fruit
MEDICINAL INGREDIENTS:
Each 5 ml contains: 
| | |
| --- | --- |
| Fish Oil (anchovy, mackeral, and sardine body oil) | 4.55 g |
| Omega-3  | 1500 mg |
|   Eicosapentaenoic acid (EPA) | 750 mg |
|   Docosahexaenoic acid (DHA) | 500 mg |
NON-MEDICINAL INGREDIENTS:
Rosemary oleoresin extract

non-GMO mixed tocopherols

Natural tangerine lime flavor

Sunflower lecithin

Astaxanthin

 

Siraitia grosvenorii (monk fruit extract)

Ascorbic palmitate

 
RECOMMENDED DAILY DOSE:
| | |
| --- | --- |
| Adults and adolescents 14 years and older |  1 tsp. (5ml) daily  |
| Children 1-13 years old | ½ tsp – 1 tsp (2.5 – 5ml) daily  |
|   |   |

What's in a flavor?
All the natural flavours in Sea-licious are created through steam distillation, similar to the way essential oils are created. The flavours are distilled or vaporized from the fruit and then concentrated. Once the flavours have been concentrated, they are added to the pure fish oil to give the delicious burst of flavor that Sea-licious is known for.
What makes Sea-licious so great? The Power of ASTA-GUARD™
ASTA-GUARD™ (algae astaxanthin) is one of the most powerful antioxidants available today and gives Sea-licious its beautifully unique red color. It's the antioxidant you can see! ASTA-GUARD™ helps to protect our bodies' cells from toxic damage and free radicals while preserving and protecting Sea-licious from light, air and heat, ensuring the last teaspoon is as fresh and delicious as the first. Natural-grade triglyceride (TG) oil also ensures freshness, product stability and rapid absorption.
Couldn't load pickup availability