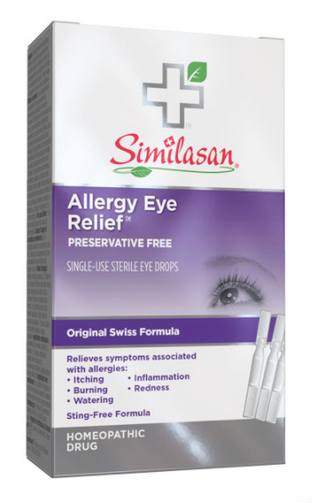 Similasan Single-Use Allergy Eye Relief™
Similasan Single-Use Allergy Eye Relief™
Regular price

Sale price

$17.99
Similasan Single-Use Allergy Eye Relief™
Preservative-free allergy eye drops you can use as often as needed without the risk of side effects
Formulated with natural medicinal ingredients that stimulate the body's natural allergy defenses
Allergies in full bloom?
We all want our eyes to feel better during allergy season, but many allergy sufferers are concerned about the chemicals and preservatives found in allergy eye drops. Traditional over-the-counter allergy drops use chemicals such as vasoconstrictors to mask symptoms. Vasoconstrictors may actually worsen the symptoms if used more than directed (usually 4 times a day maximum). Similasan of Switzerland works differently, by using natural botanical extracts to stimulate the body's natural defenses and target the root cause. Similasan products are made without harsh chemicals, so you can use them as often as needed.
No harsh vasoconstrictors or antihistamines
Preservative-free
No known side effects
Gluten & dairy-free
Key Ingredients
Allergy Eye Relief™ eye drops contain extract of:
• Eyebright (Euphrasia)
• Sabadilla lily (Sabadilla)
Uses: Homeopathic remedy for use in temporarily relieving minor allergy symptoms such as itching, burning, excessive watering, inflammation, and redness of eyes and lids.

Warnings: For external use only. Initial exacerbation of symptoms may occur. Use only if the single-use dropper is intact. To avoid contamination, do not touch the tip of the dropper to any surface. Do not reuse. Once opened, discard. Contact wearers: consult a health care practitioner prior to using. Consult a health care practitioner before use if pregnant or breastfeeding. Keep this and all medicines out of the reach of children. In case of accidental overdose, get medical help or contact a poison control center immediately.

Do not use: If the solution changes color or becomes cloudy.

Stop use and ask a physician if: Symptoms worsen or persist for more than 72 hours, changes in vision occur or you experience eye pain.

Directions: Adults and children (over 2): Remove a single-use dropper. Twist flat end with the ball to remove. Squeeze plastic dropper to release 2-3 drops into the eye and discard the applicator. Apply as needed up to 72 hours. Use a new dropper for every application. 

Medicinal ingredients: Apis mellifica, Apis mellifica (honey bee) 6X; Euphrasia 3c, Euphrasia Officinalis 3c (whole fresh plants) 6X; Schoenocaulon Officinale, Sabadilla (dried ripe seeds) 6X 

Non-medicinal ingredients: Purified water; Sodium phosphate, monobasic, dihydrate; Disodium phosphate anhydrous (as buffering agents)
Couldn't load pickup availability