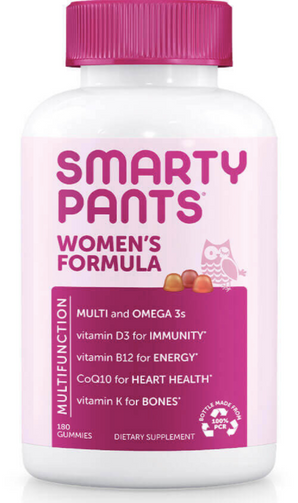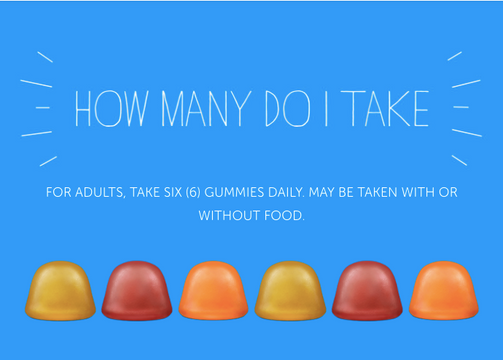 SmartyPants Women's Formula
SmartyPants Women's Formula
Regular price

Sale price

$39.99
SmartyPants Women's Formula
Multifunctional Women's Formula for immune, energy, heart, and bone health.* Premium, Non-GMO with Omega-3s.
Just like you, our Women's Formula is an expert multitasker. We use extra premium vitamins and essential nutrients like Omega-3 EPA; DHA essential fatty acids (from sustainably-sourced fish oil), Vitamin D3 for immunity, Vitamin B12 for energy, CoQ10 for heart health, and Vitamin K2 for bone health.* So, you get more of the nutrients you want - all in one easy (and delicious) serving.
Because we know you're flawless. But some days, your diet might not be. We've got this!
Formulated for women to help fill a range of nutrient gaps.
Made with premium nutrients in forms your body prefers and can easily use.
Non-GMO. No synthetic colors, artificial flavors, sweeteners, or other weird additives.
Free of milk, eggs, shellfish, soy, peanuts, wheat, fish allergens, and tree nut allergens
Each Serving Includes:
Omega-3 EPA & DHA essential fatty acids sustainably-sourced from wild-caught small fish.

Be ready for whatever life throws at you with vitamin D as D3 to support normal immune function.

You've got the power with vitamin B12 as methylcobalamin to support energy production.

CoQ10 for heart health because the amount your body produces declines with age.

No bones about it. We include Vitamin K in the premium form K2 (MK7) for bone health.
No Junk in These Gummies!
No Synthetic Colors
No Artificial Sweeteners
No Artificial Flavors
No Artificial Preservatives
No High Fructose Corn Syrup
No GMOs
No Gluten
No Wheat
No Eggs
No Peanuts
No Soy
No Dairy
Supplement Facts
Serving Size: 6 Gummies
Servings Per Container: 30% of Daily Value
Calories
45
 
Total Fat
0.5 g
0%
Cholesterol
< 5 mg
1%
Total Carbohydrate
9 g
3%†
  Sugars
6 g
**
    Includes 6 g Added Sugars
 
13%†
Vitamin A (as 50% beta-carotene, 50% retinyl palmitate USP)
270 mcg
30%
Vitamin C (as ascorbic acid USP)
45 mg
50%
Vitamin D (D-3 as cholecalciferol USP)
50 mcg (2000 IU)
250%
Vitamin E (as d-alpha-tocopherol from sunflower oil FCC)
12 mg
80%
Vitamin K (K-1 as phylloquinone USP)
24 mcg
20%
Thiamin (Vitamins B-1 as thiamine mononitrate USP)
0.12 mg
10%
Riboflavin USP (Vitamin B-2 USP)
0.26 mg
20%
Niacin (Vitamin B-3 as inositol niacinate)
4 mg
25%
Vitamin B-6 (as pyridoxal 5-phosphate)
1.5 mg
88%
Folate (as L-methylfolate, calcium salt)
400 mcg
100%
(240 mcg L-methylfolate)
Vitamin B-12 (as methylcobalamin)
4 mcg
167%
Biotin USP
45 mcg
150%
Pantothenic acid (as calcium D-pantothenate USP)
3.5 mg
70%
Choline (as choline bitartate)
55 mg
10%
Iodine (as potassium iodide USP)
150 mcg
100%
Zinc (as zinc citrate USP)
4 mg
36%
Selenium
14 mcg
25%
Sodium
25 mg
< 1%
Fish Oil (from small fish)
510 mg
**
  Total Omega-3 Fatty Acids
162 mg
**
    EPA and DHA
126 mg
**
CoenzymeQ10 (ubiquinone USP)
60 mg
**
Inositol (as inositol niacinate)
1 mg
**
Vitamin K-2 (as menaquinone-7 FCC)
16 mcg
**
 
 
 

*These statements have not been evaluated by the Food and Drug Administration. This product is not intended to diagnose, treat, cure, or prevent disease. †Percent Daily Value based on a 2,000 calorie diet. **Daily Value not established.
Couldn't load pickup availability