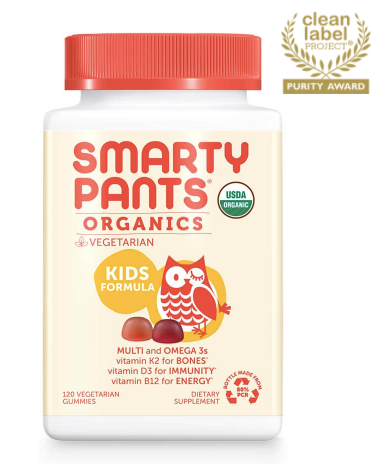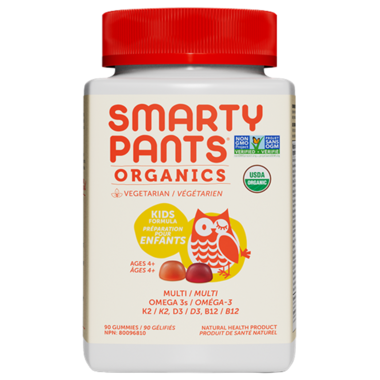 SmartyPants Organic Kids Formula
SmartyPants Organic Kids Formula
Regular price

Sale price

$34.99
SmartyPants Organic Kids Formula
Multifunctional Kid's Formula for digestive, bone, energy health.* Organic, vegetarian, non-GMO with Omega-3s.
We know getting your kids to eat healthily can sometimes be a chore (and you already have enough of those). Luckily, we've got them covered. Our new certified-organic and AVA-certified-vegetarian Kids Complete includes Omega-3, probiotics,*, and 14 essential nutrients – all in delicious gummy kids love.
More of the nutrients you want - all in one easy and delicious serving.
Science-based nutrition formulated for kids to help offer a number of health benefits and fill a range of nutrient gaps.
Made with premium nutrients in forms your body prefers and can easily use.
Non-GMO. No synthetic colors. No artificial flavors. No artificial sweeteners or other weird additives.
Newly-upgraded multifunctional formula with even more premium ingredients based on the latest science, research on dietary patterns, and recommendations from the FDA, the Health and Medicine Division of the National Academies of Sciences (formerly the Institute of Medicine), and our Scientific Advisory board.
Each serving includes:
Vegetarian omega-3 ALA (aka one of the ''good fats'') from organic flaxseed oil.

Folate as methylfolate, the premium, active form your child's body prefers to help form red blood cells.*

Vitamin D3, our body's preferred form of vitamin D, to help your child build strong bones and teeth. (800 IU)

 Methylcobalamin, the superior form of B12, helps your child's immunity and energy production.

 Zinc supports healthy bones, normal immune function,*, and good health and development. (1.5mg)

 
Each serving is for children 4 years of age and older
Calories
25
Total Carbohydrate
6 g
2%
Sugars
4 g
**
Includes 7 g Added Sugars
8%
Vitamin A (as 50% beta-carotene, retinyl palmitate USP)
180 mcg
20%
Vitamin C (as organic acerola cherry extract)
25 mg
28%
Vitamin D (D-3 as cholecalciferol USP)
20 mcg (800 IU)
100%
Vitamin E (as d-alpha-tocopherol from sunflower oil FCC)
6.6 mg
44%
Thiamin (Vitamin B-1 as thiamine mononitrate USP)
0.1 mg
8%
Riboflavin USP (Vitamin B-2)
0.16 mg
12%
Vitamin B-6 (as pyridoxal 5-phosphate)
1 mg
59%
Folate (as L-methylfolate, calcium salt)
250 mcg DFE (150 mcg L-methylfolate)
63%
Vitamin B-12 (as methylcobalamin)
1.8 mcg
75%
Biotin USP
16 mcg
53%
Pantothenic acid (as calcium D-pantothenate USP)
0.5 mg
10%
Choline (as choline bitartrate USP)
18 mg
3%
Iodine (as potassium iodide USP)
90 mcg
60%
Zinc (as zinc citrate USP)
1.5 mg
14%
Sodium
10 mg
1%
Organic Flax Seed Oil
256mg
**
Omega-3 (a-Linolenic Acid)
134 mg
**
Omega-9 (Oleic Acid)
41 mg
**
Vitamin K-2 (as menaquinone-7)
15 mg
**
No Junk in These Organic Gummies!
No Synthetic Colors
No Artificial Sweeteners
No Artificial Flavors
No Artificial Preservatives
No High Fructose Corn Syrup
No GMOs
No Gluten
No Wheat
No Eggs
No Peanuts
No Soy
No Dairy
Couldn't load pickup availability