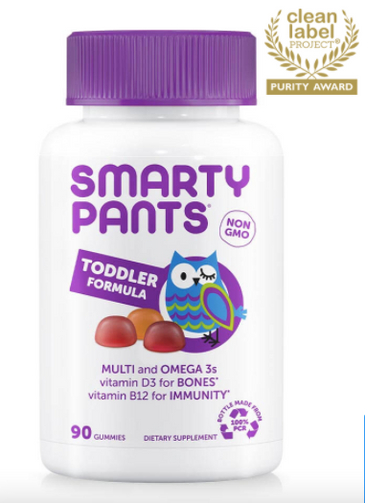 SmartyPants Toddler Formula Multivitamin Gummies
SmartyPants Toddler Formula Multivitamin Gummies
Regular price

Sale price

$15.99
SmartyPants Toddler Formula Multivitamin Gummies
Formulated for toddlers to support bone, immune health, and more.* Premium, non-GMO ingredients, Omega-3s.
They may be little, but these are big years for their development. So give them a premium, nutrient-packed gummy vitamin specifically formulated (and sized) for 2- and 3-year-olds. Non-GMO and allergen-free, these delicious gummies are sure to become their taste buds' new best bud.
More of the nutrients you want - all in one easy and delicious serving. (The below are bullets)
Science-based nutrition

 

formulated for adults to help offer a number of health benefits and fill a range of nutrient gaps.
Made with premium nutrients

 

in forms your body prefers and can easily use.
Non-GMO. No synthetic colors. No artificial flavors.

 

No artificial sweeteners or other weird additives.
Multifunctional formula

 

based on the latest research on dietary patterns and recommendations from the FDA, the Health and Medicine Division of the National Academies of Sciences (formerly the Institute of Medicine), and our Scientific Advisory board.
Omega-3 (EPA & DHA) essential fatty acids sustainably sourced from wild-caught small fish.
Vitamin D3, our body's preferred form, to help your toddler build strong bones and teeth.*
Vitamin B12, in the premium form methylcobalamin, for normal immune function.*
Don't get salty. Iodine is an essential mineral to support your toddler's thyroid health.*
Folate in the preferred form methylfolate to help your toddler's body form red blood cells.*
Flavors
Blueberry
Grape
Orange Creme
No Junk in These Gummies!
No Synthetic Colors
No Artificial Sweeteners
No Artificial Flavors
No Artificial Preservatives
No High Fructose Corn Syrup
No GMOs
No Gluten
No Wheat
No Eggs
No Peanuts
No Soy
No Dairy
Supplement Facts
Serving Size: 3 Gummies
Servings Per Container: 30% of Daily Value
| | | |
| --- | --- | --- |
| Calories | 15 |   |
| Total Carbohydrate | 3 g | 2%† |
| Sugars | 2 g | ** |
| Includes 2g Added Sugars |   | 9%† |
| Vitamin A (as 50% beta-carotene, retinyl palmitate USP) | 90 mcg | 30% |
| Vitamin C (as ascorbic acid USP) | 22.5 mg | 150% |
| Vitamin D (D-3 as cholecalciferol USP) | 10 mcg (400 IU) | 67% |
| Vitamin E (as d-alpha-tocopherol from sunflower oil) | 3.3 mg | 55% |
| Vitamin K (K-1 as phylloquinone) | 6 mcg | 20% |
| Thiamin (Vitamin B-1 as thiamine mononitrate USP) | 0.05 mg | 10% |
| Riboflavin (Vitamin B-2) | 0.08 mg | 16% |
| Vitamin B-6 (as pyridoxal 5-phosphate) | 0.5 mg | 100% |
| Folate (as L-methylfolate, calcium salt) | 125 mcg DFE | 83% |
| | 75 mcg L-methylfolate | |
| Vitamin B-12 (as methylcobalamin) | 1.2 mcg | 133% |
| Biotin USP | 8 mcg | 100% |
| Pantothenic acid (as calcium D-pantothenate USP) | 0.19 mg | 10% |
| Choline (as choline bitartrate) | 20 mg | 10% |
| Iodine (as potassium iodide USP) | 45 mcg | 50% |
| Zinc (as zinc citrate USP) | 0.8 mg | 27% |
| Sodium | 10 mg | 1% |
| Fish Oil | 171 mg | ** |
| Total Omega-3 Fatty Acids | 50 mg | ** |
| EPA and DHA | 50 mg | ** |
| Inositol FCC | 1 mg | ** |
| Vitamin K-2 (as menaquinone-7) | 4 mcg | ** |
Couldn't load pickup availability