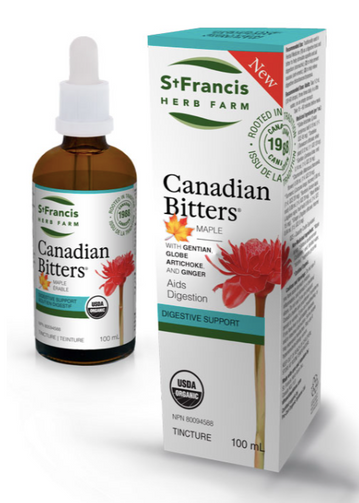 St Francis Canadian Bitters® Maple
St Francis Canadian Bitters® Maple
Regular price

Sale price

$19.99
St Francis Canadian Bitters® Maple
If you're suffering from digestive complaints—all too common in today's hectic fast-food world, it's very likely you need bitters in your life. Enter our unique Canadian Bitters® Maple formula.
Soothing relief of uncomfortable digestive symptoms such as heartburn, indigestion, constipation, bloating, and gas
A unique spectrum of herbs with bitter compounds that optimize nutrient absorption, critical to many bodily systems, including a strong immune system, and helps reduce sugar cravings.
Helps retrain the body's digestive system, encouraging it to function more efficiently on-going instead of merely providing a temporary solution.
Not habit-forming, like other laxative-heavy bitters formulas, or some over-the-counter options
For a somewhat more palatable version, try Canadian Bitters® Maple, which includes a touch of Ontario maple syrup.
Who it's for:
Take our Canadian Bitters® Maple formula if you're experiencing digestive problems such as gas, bloating, stomach upset, or any kind of dyspepsia. Canadian Bitters® Maple also makes for perfect day to day balance and support for your digestive health and overall wellness.
Dosage: Adults: Take 1-2 mL (30-60 drops), three times daily, in a little water, on an empty stomach. Take 15–60 minutes before meals. Cautions and Warnings: Consult a health care practitioner if symptoms persist or worsen, if you are breastfeeding, or if you have liver or gall bladder diseases, and/or intestinal obstruction.
Contraindications: Do not use if you have acute stomach irritation, inflammation, and stomach or duodenal ulcers. Do not use if you are pregnant. Known Adverse
Reactions: Some people may experience headaches. Stop use if hypersensitivity/allergy occurs.
Medicinal Ingredients:
Globe artichoke (Cynara scolymus, leaf), Dandelion (Taraxacum officinale, whole plant), Gentian (Gentiana lutea, root), Chamomile (Matricaria chamomilla, flower), Turmeric (Curcuma longa, Rhizome), Burdock (Arctium lappa, root), Black walnut (Juglans nigra, fruit hull), Ginger (Zingiber officinale, root)
Non-Medicinal Ingredients:
Maple syrup, Elettaria cardamomum (Cardamom) seed, distilled water, alcohol, vegetable glycerine
Couldn't load pickup availability