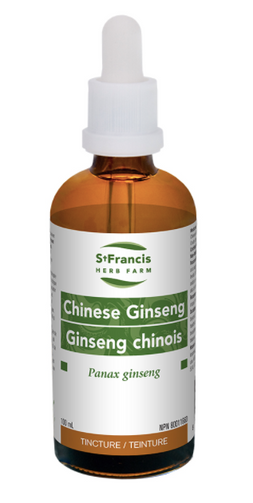 St Francis Chinese Ginseng
St Francis Chinese Ginseng
Regular price

Sale price

$23.99
Chinese Ginseng
Recover your energy and stamina and improve your cognitive function with our Chinese Gingseng Tincture. It reduces mental fatigue too.
• Eases mental fatigue
• Has calming effect on cerebral cortex
• Enhances concentration and memory
• Improves energy and stamina
• Promotes healthy glucose levels
Who it's for:
Take our Chinese Ginseng Tincture if you need increased energy and stamina. It's also great if you need a boost with cognitive functions, especially during times of mental stress.
Traditionally used in Herbal Medicine as a supportive therapy for the promotion of healthy glucose levels. Used in Herbal Medicine to support cognitive function and/or reduce mental fatigue (in case of mental stress) and also to help enhance physical capacity/performance.
Dosage:
Adults: Take 0.8-1.6 mL (24-48 drops) 3 times daily in a little water on an empty stomach.
Cautions and Warnings:
Consult a health care practitioner before use: if you are pregnant or breastfeeding; if you have diabetes; if you are taking blood thinners, digoxin or antidepressant medications.
Contraindications:
Known Adverse Reactions:
Some people may experience insomnia, anxiety, or headaches, in which case, discontinue use.
Medicinal Ingredients:
Certified Organic/Wildcrafted Chinese Ginseng (Panax ginseng, root)
Non-Medicinal Ingredients:
Distilled water, certified organic alcohol
Couldn't load pickup availability