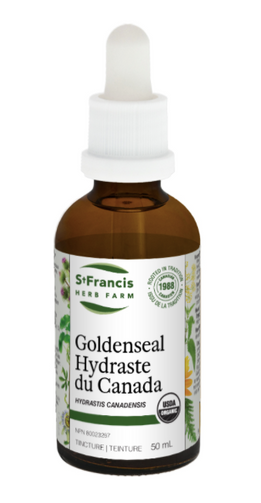 St Francis Goldenseal
St Francis Goldenseal
Regular price

Sale price

$29.99
Goldenseal
Goldenseal tincture offers you a broad spectrum of antimicrobial and anti-inflammatory actions for your digestive tract.
• Antibacterial
• Anti-inflammatory
• Relieves gastritis and digestive disturbances such as dyspepsia
Who it's for:
Take our Goldenseal Tincture if you have an upset stomach or need anti-inflammatory and antimicrobial support for your digestive system.
Traditionally used in Herbal Medicine: (1) as a bitter to aid digestion; (2) to help alleviate infectious and inflammatory conditions of the digestive tract such as gastritis; (3) to help relieve digestive disturbances such as dyspepsia.
Dosage:
Adults: Take 1-1.6 mL (30-48 drops) 3 times daily in a little water on an empty stomach.
Cautions and Warnings:
Consult a health care practitioner if symptoms worsen or persist and before use: if you have blood pressure problems; if you have a kidney disorder. Consumption of Goldenseal with alcohol or other medications and/or natural health products with sedative properties is not recommended.
Contraindications:
Do not use if you are pregnant or breastfeeding.
Medicinal Ingredients:
Certified Organic Goldenseal (Hydrastis canadensis, root and rhizome)
Non-Medicinal Ingredients:
Distilled water, certified organic alcohol
Couldn't load pickup availability