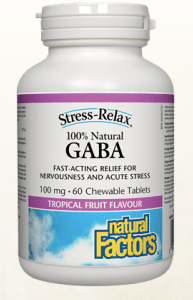 Natural Factors Stress-Relax® 100% Natural GABA 100 mg Tropical Fruit Flavour
Natural Factors Stress-Relax® 100% Natural GABA 100 mg Tropical Fruit Flavour
Regular price

Sale price

$25.99
Stress-Relax® 100% Natural GABA 100 mg, Tropical Fruit Flavour
Reduces acute stress and nervousness, and quickly restores mental calmness
Promotes mental clarity and physical relaxation without drowsiness
Improves cognitive functions including learning performance, concentration, and memory
Controls stress-related eating and food cravings
Improves sleep quality
Medicinal Ingredients
Each tablet contains:
Pharma GABATM

 

80 gamma-aminobutyric acid
100 mg
(from 129 mg Pharma GABATM

 

80 Complex )
Non-Medicinal Ingredients
Xylitol, stearic acid, hydroxypropylcellulose, silica, natural tropical fruit flavor (banana, pomegranate, pineapple, mango, passionfruit, orange, tangerine, mandarin), citric acid, vegetable grade magnesium stearate (lubricant).
Suggested Use
Pharma GABA is a superior source and a naturally produced form of the important brain compound gamma-aminobutyric acid (GABA). Provides fast-acting relief for nervousness and acute stress. Helps promote relaxation and ease nervous tension.
Advanced Info
Gamma-aminobutyric acid (GABA) is a natural calming agent of the brain, often viewed as the brain's "braking system". When we become overwhelmed with stress the brain typically responds by producing more GABA, or pumping the brakes.
GABA's foremost mechanism of action is increasing the production of alpha brain waves (associated with a relaxed, yet alert state) and decreasing the production of beta brain waves (associated with nervousness, scattered thoughts, and hyperactivity). This leads to improved relaxation without drowsiness and enhanced mental focus.
Although everyday stress is a normal part of modern-day living, for some people stress can become overwhelming, which can lead to an assortment of symptoms including nervous tension, sleep disturbances, and irritability.
Natural Factors Stress-Relax 100% Natural GABA is a superior-sourced Pharma GABA, that is produced byLactobacillus hilgardii, a beneficial lactic acid bacteria used in the making of the traditional Korean vegetable dish known as kimchi. Clinical studies have shown Pharma GABA's important role in reducing stress, promoting feelings of relaxation, and improving concentration.
Couldn't load pickup availability