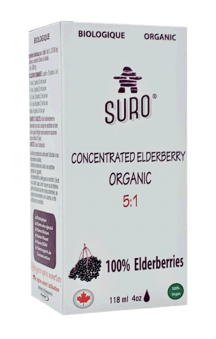 Suro Organic Concentrated Elderberry 5:1
Suro Organic Concentrated Elderberry 5:1
Regular price

Sale price

$15.99
Suro Organic Concentrated Elderberry 5:1
Helps relieve the symptoms of colds and flus. Source of antioxydants for adults.
Posology at first symptoms
We recommend taking SURO syrups at the beginning of symptoms of cold and flu but this concentrate is an alternative for any person with diabetes or who is vegan. Unlike SURO syrups, this elderberry concentrate contains no honey. The concentrate can be added to your smoothies, your breakfast cereals, to make elderberry tea or use it as a base to make your own elderberry syrup.
Posology
Adults: 60 drops (3 ml)
14 to 17 years old: 48 drops (2.4 ml)
10 to 13 years old: 30 drops (1.5 ml)
5 to 9 years old: 18 drops (0.9 ml)
2 to 4 years old: 12 drops (0.6 ml)
Mode of Action
Elderberry: Helps relieve symptoms of cold and flu.
Powerful formula made with only one ingredient: Elderberries grown in Canada whose cultivars have been selected for their highest levels of antioxidants.
Made in Canada from fresh organic elderberry juice. To achieve a concentration of 5:1 a portion of the juice is freeze dried. 1 tsp of concentrate is made from 5 tsp of fresh elderberry.
Can be used year-round.
Pasteurisation
We use flash pasteurisation for this product to minimize the effect of heat.
Preservation
18 months of storage unopened, 30 days once the bottle is open.
MANDATORY REFRIGERATION once opened.
Keep longer than 30 days by making ice cubes that contain the desired amount of concentrate and add enough water.
Format
Glass Amber bottle with screwed aluminum cap with a graduated dropper included in the box 118ml
Ingredients
MEDICINAL INGREDIENTS per ml: 5: 1 (25000 mg) organic elderberry (Sambucus canadensis )
NON-MEDICINAL INGREDIENTS: None
Caution
Consult a health care practitioner prior to use if you are pregnant or breastfeeding. Consult a health care practitioner if your symptoms persist or worsen. Hypersensitivity or allergy may occur, if this is the case, discontinue use. Discontinue use in case of gastrointestinal problems such as abdominal cramps, nausea, vomiting or diarrhea. A diuretic effect may occur.
Couldn't load pickup availability