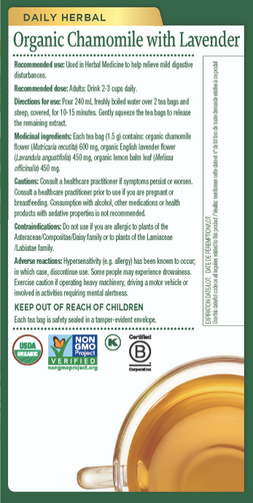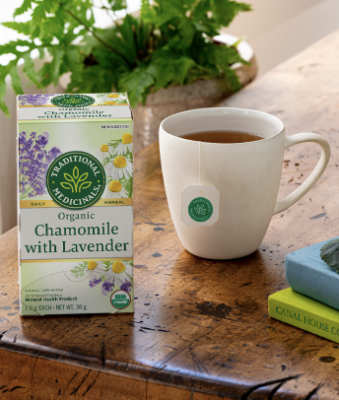 Traditional Medicinals Chamomile & Lavender
Traditional Medicinals Chamomile & Lavender
Regular price

Sale price

$6.99
Traditional Medicinals Chamomile & Lavender
Recommended use: Used in Herbal Medicine to help relieve mild digestive disturbances.
Recommended dose: Adults: Drink 2-3 cups daily.
Directions for use: Pour 240 mL freshly boiled water over 2 tea bags and steep, covered, for 10-15 minutes. Gently squeeze the tea bags to release the remaining extract.
Cautions: Consult a healthcare practitioner if symptoms persist or worsen. Consult a healthcare practitioner prior to use if you are pregnant or breastfeeding. Consumption of alcohol, other medications, or health products with sedative properties is not recommended.
Contraindications: Do not use if you are allergic to plants of the Asteraceae/Compositae/Daisy family or to plants of the Lamiaceae /Labiatae family.
Adverse reactions: Hypersensitivity (e.g. allergy) has been known to occur; in which case, discontinue use. Some people may experience drowsiness. Exercise caution if operating heavy machinery, driving a motor vehicle or involved in activities requiring mental alertness.
KEEP OUT OF REACH OF CHILDREN
Couldn't load pickup availability