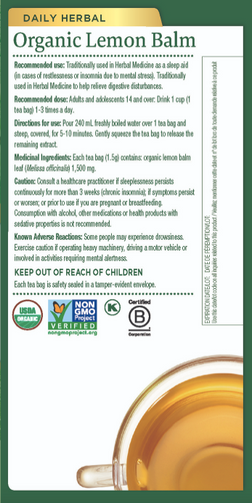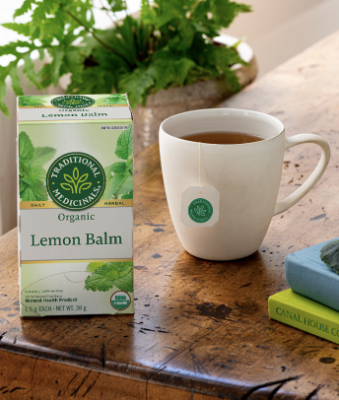 Traditional Medicinals Lemon Balm
Traditional Medicinals Lemon Balm
Regular price

Sale price

$7.99
Traditional Medicinals Lemon Balm
Recommended use: Traditionally used in Herbal Medicine as a sleep aid (in cases of restlessness or insomnia due to mental stress). Traditionally used in Herbal Medicine to help relieve digestive disturbances.
Recommended dose: Adults and adolescents 14 and over: Drink 1 cup (1 tea bag) 1-3 times a day.
Directions for use: Pour 240 mL freshly boiled water over 1 tea bag and steep, covered, for 5-10 minutes. Gently squeeze the tea bag to release the remaining extract.
Caution: Consult a healthcare practitioner if sleeplessness persists continuously for more than 3 weeks (chronic insomnia); if symptoms persist or worsen; or prior to use if you are pregnant or breastfeeding. Consumption with alcohol, other medications or health products with sedative properties is not recommended.
Known Adverse Reactions: Some people may experience drowsiness. Exercise caution if operating heavy machinery, driving a motor vehicle or involved in activities requiring mental alertness.
KEEP OUT OF REACH OF CHILDREN
Couldn't load pickup availability