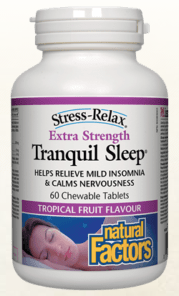 Natural Factors Stress-Relax® Tranquil Sleep® Extra Strength
Natural Factors Stress-Relax® Tranquil Sleep® Extra Strength
Regular price

Sale price

$44.99
Stress-Relax® Tranquil Sleep® Extra Strength, Tropical Fruit Flavour
60 Chewable Tablets (SKU 2849)
Stress-Relax Extra Strength Tranquil Sleep contains a synergistic combination of Suntheanine® L-theanine, 5-HTP, and melatonin to help you fall asleep quickly, sleep soundly, and wake up feeling refreshed. This higher potency formula comes in chewable tropical fruit-flavoured tablets that improve relaxation and sleep quality in a safe, non-habit-forming way.
Promotes a restful, better quality of sleep
Reduces the time it takes to fall asleep
Supports a healthy sleep-wake cycle
Induces relaxation and lowers the body's stress response
Relieves day-time fatigue from altered sleep schedules (e.g., shift work or jet lag)
Medicinal Ingredients
Each chewable tablet contains:
Suntheanine®

 

L-Theanine
200 mg
L-5-Hydroxytryptophan (5-HTP)

 

(Griffonia simplicifolia)

 

(seed)
15 mg
Melatonin (non-animal source)
6 mg
Non-Medicinal Ingredients
Organic evaporated cane juice, stearic acid, xylitol, silica, natural flavours (tropical punch, peach), citric acid, vegetable grade magnesium stearate (lubricant).
Suggested Use
Helps to temporarily promote relaxation. Helps increase the total sleep time in people suffering from sleep restriction or altered sleep schedule (e.g., shift-work and jet lag). Helps to prevent and/or reduce the effects of jet lag for people travelling by plane easterly across two or more time zones. Helps to reduce the time it takes to fall asleep in people with delayed sleep phase disorder. Helps reset the body's sleep-wake cycle.
Couldn't load pickup availability