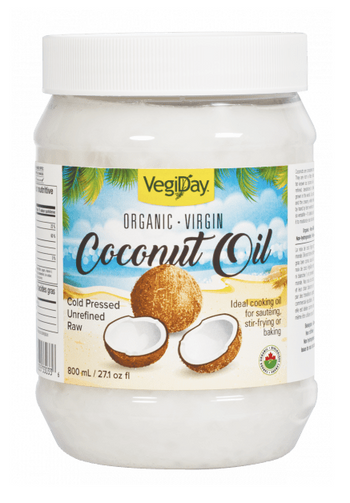 Vegi Day Organic Virgin Coconut Oil
Vegi Day Organic Virgin Coconut Oil
Regular price

Sale price

$16.99
Vegi Day Organic Virgin Coconut Oil
Organic, raw, unrefined, and cold-pressed virgin coconut oil
Ideal for cooking, baking, or sautéing
Can be added to food or smoothies for energy
An alternative to butter, margarine, and other vegetable oils
Use topically as an effective moisturizer for skin and hair care
Sustainably sourced and exclusive to Natural Health Food Retailers
VegiDay Organic Virgin Coconut Oil is cold-pressed, unrefined, and raw, and is only available in natural health food stores. This premium coconut oil can be used for cooking over medium heat, making it ideal for sautéing, stir-frying, baking, as well as for use in smoothies and as a moisturizer for natural skin and hair care.
Nutrition Facts 

Per 1 Tbsp (15 mL)
Servings Per Container: 53
Amount Per Serving

 

 

% Daily Value

 

 

Calories 
130 (540 kJ)
Fat 
14 g
22 %
     Saturated
12 g
60 %
     + Trans
0 g
Polyunsaturated
0 g
Monounsaturated
0.5 g
Carbohydrate 
0 g
0 %
Protein
0 g
Not a significant source of omega-6, omega-3, cholesterol, sodium, dietary fibre, sugars, vitamin A, vitamin C, calcium, or iron.

Fatty Acid Profile 

Per 1 Tbsp (15 mL)
Medium Chain Fatty Acids
9 g
Lauric Acid
7 g
Caprylic Acid
1 g
Capric Acid
0.8 g
Ingredient:
Organic coconut oil.
Recommended use
Coconuts are considered one of the world's most nourishing superfoods. They are rich in fiber, vitamins, and minerals, as well as precious fat, which is known as coconut oil. VegiDay Coconut Oil is cold-pressed (never refined, deodorized, or bleached!) from some of the finest coconuts grown in the world. Our coconuts are harvested at the peak of freshness and the creamy, white meat of the coconut is scooped out of the shell by hand by farmworkers in a fair trade work environment. Coconut oil is so versatile – it's ideal as a medium-heat cooking oil and you can even use it to moisturize your skin and hair.
Couldn't load pickup availability