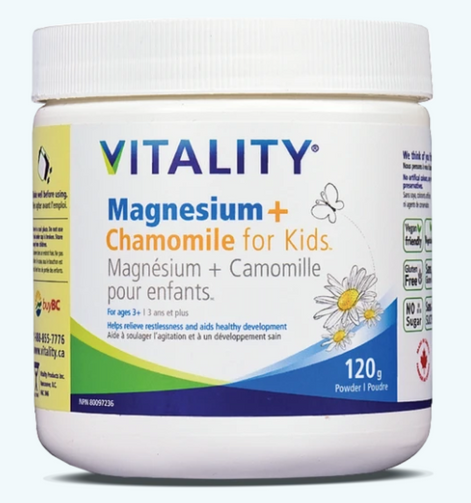 Vitality Magnesium + Chamomile for Kids
Vitality Magnesium + Chamomile for Kids
Regular price

$37.99

Sale price

$22.99
Vitality Magnesium + Chamomile for Kids
VITALITY's Magnesium + Chamomile naturally helps kids relax. When combined with hot water the magnesium activates to highly absorbable ionic magnesium citrate and blends with German chamomile into a tasty drink for kids. The calming properties promote evening relaxation and better sleep. VITALITY is free of melatonin and will not interact with a child's natural production of melatonin to support their long-term sleep patterns. Sugar-Free.
Ingredients:
Each scoop or sachet contains
Medicinal ingredients
| | |
| --- | --- |
| Magnesium (Magnesium Carbonate) | 100 mg |
| Zn (Zinc citrate) | 5 mg |
| Vitamin B6 (Pyridoxal 5-phosphate) | 5 mg |
| German Chamomile PE (Matricaria chamomilla, Flower, 10:1) | 150 mg |
Non-medicinal ingredients
Stevia leaf extract, Citric acid, Silica, Natural Flavour Powder
Features & Benefits:
Naturally helps kids relax and promotes a restful night's sleep
Calms anxiety and hyperactivity
Soothes an upset stomach and relieves gas pain or digestive spasm
Reduces muscle spasms and relieves growing pains
Non-habit forming – melatonin free
Vegan, gluten-free, non-GMO, soy-free, no artificial colours, fillers or preservatives
VITALITY is ideal for
Children with trouble sleeping
Children with restless anxiety or hyperactivity
Children with upset stomachs
Children with growing pains
VITALITY is made in Canada, is Vegan, Gluten-Free, Soy Free, Non-GMO, Sugar and Dairy Free. No artificial colours, flavours or preservatives have been used in this magnesium supplement. All products are third-party tested for quality, purity and potency.
VITALITY helps your kids relax before bed or with nervous excitement (hyperactivity). With safe and effective formulas, parents can also rest easy knowing that VITALITY products are made to the highest standard and third-party tested for purity. Delivered as a tasty drink, Mag-Cham is the perfect addition to your child's nightly routine.
Recommended Use:
Helps to maintain the body's ability to metabolize nutrients. Helps maintain proper muscle function, including the heart muscle. Helps in the development and maintenance of bones and teeth. Helps to maintain healthy skin and connective tissue formation. Helps to maintain/support immune function/system. Chamomile is traditionally used in Herbal Medicine to help relieve restlessness and/or nervousness (calmative) and help to relieve mild digestive upset.
Recommended Directions:
3 Years Old: 0.5 scoops or sachets in ¼ cup hot water, once per day
4 - 8 Years Old: 1 scoop or sachet in ½ cup hot water, once per day
9 - 17 years old: 1-3 scoop(s) or sachet(s) in 1 cup hot water, once per day
Stir into very hot water in the evening or at bedtime for relaxation. Ensure 1-2 hours before bedtime in cases of bedwetting. Once the powder finishes fizzing, add water to taste or cool to desired temperature.
Cautions / Warnings:
Consult a healthcare practitioner if symptoms persist or worsen. Stop use if hypersensitivity/allergy occurs.
Replenish Magnesium
A common nutrient deficiency in adults, children are also at risk for low magnesium levels. As picky eaters, kids' diets are often lacking in magnesium rich foods such as whole grains, nuts and green vegetables.
Soothing Chamomile
Soothing to the nervous system as well as the digestive system, German chamomile is effective at calming anxiety, promoting sleep and relieving digestive ailments such as gas and cramping.
Increased Absorption
The addition of Vitamin B6 and Zinc improves magnesium's absorption in the body and uptake into cells.
Couldn't load pickup availability